The Ethena admin hub is where Ethena admins can assign and manage training for their team members. In the admin hub, admins can add and edit team members, track training completion status, and send reminders about training, among other key activities.
The Admin Hub consists of 5 primary sections:
Dashboard
Team Members
Account Settings
Course Catalog
Learning Center
Dashboard
When logging into the Ethena Admin Hub, the first page you will land on is the Dashboard page.
The Dashboard page provides a high-level overview of your organization's training schedule and gives you a snapshot of your current course assignments. You can also add new courses from here, look into individual assignment progress, and create new training assignments for your team.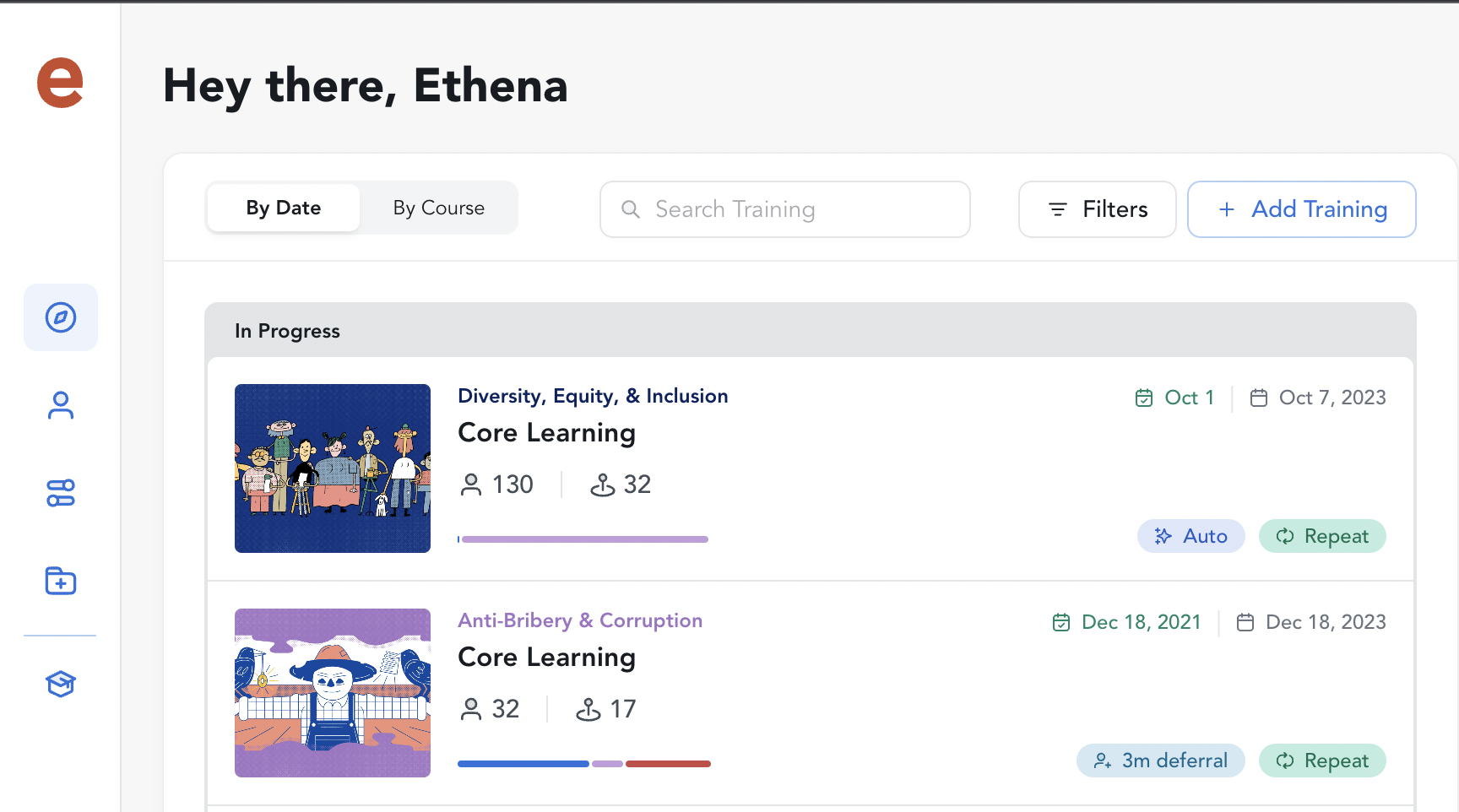 Team Members
The Team Members page is where you will add, remove, and manage team members taking training.
On this page, each team member has a record where you can view and edit their employee information and take actions like viewing their training records and reminding them to train.

The below shows that on an individual learner basis you can edit their details, send them test notifications, and transition them to a terminated user as needed.
If your team members are managed using an integration, you will need to make most of these changes within your HRIS - from there, they will automatically update within Ethena upon the systems' next sync!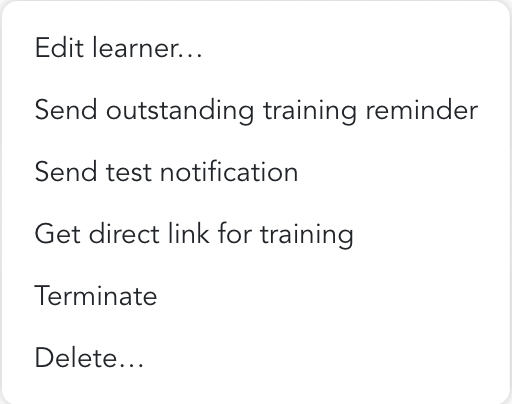 Account
The Account page is where you will manage your Ethena settings on an ongoing basis.
The Account page consists of five sections:
Company Information
Company Policies
Billing
Integrations
Resources

For more detailed information on the account page, check out this article.

Course Catalog

On this page you will find all of Ethena's available courses. You can preview the courses and add any new ones to your account as you would like! Each course tile contains course information, cost, a PDF reviewing the curriculum, and a nudge preview link.
Learning Center
The Admin Hub also contains a sample Learning Center for you to view an example set of training nudges. This Learning Center shows the same experience your team members will go through when they take training. You can click through the training and view content, as well as checks on learning.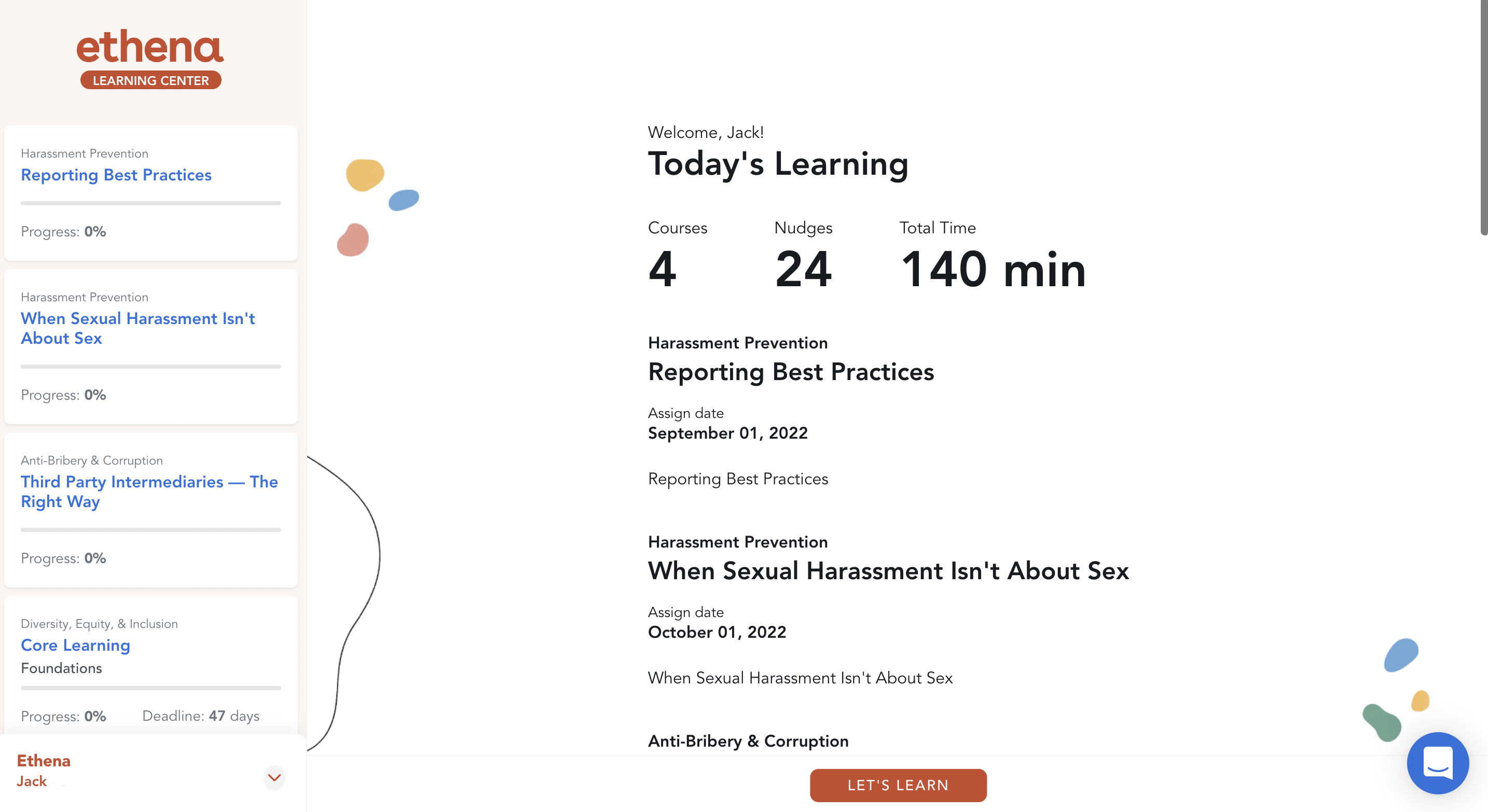 *Note: The Learning Center in the Admin Hub is only a preview of Ethena training. It does not include a timer, and completion of the training will not count towards your training progress. To complete your assigned training, use the magic links you receive in your Ethena notifications.