Ethena integrates with a number of HRIS's to simplify team member management in the platform.
Click here for a list of HRIS's Ethena can integrate with.
This FAQ provides answers to frequently asked questions about setting up and working with Ethena's HRIS integrations.
How can I set up an integration between my HRIS and Ethena?
For specific instructions on setting up your HRIS integration with Ethena, see these articles for instructions specific to your system.
What if I've already added employees to Ethena before integrating my HRIS?
Ethena matches users based on email address and name. This means if you used the same email address in your HRIS as you did in Ethena, or if their full name matches, the integration will automatically connect the two records.
How can I provide Ethena training to a user who is not in my HRIS?
You can add this user directly in Ethena. Click here for instructions.
What happens if an employee isn't syncing to Ethena?

Sometimes errors happen but fret not, we're here to help! If your integration has some issues syncing, we will let you know on the integrations page what needs to be fixed. This could be something such as the state is missing for the individual, or they have a missing email address. Our interface will show you in detail what these issues are. Just head to the Integrations page and click on the error message to bring up a side panel looking just like this: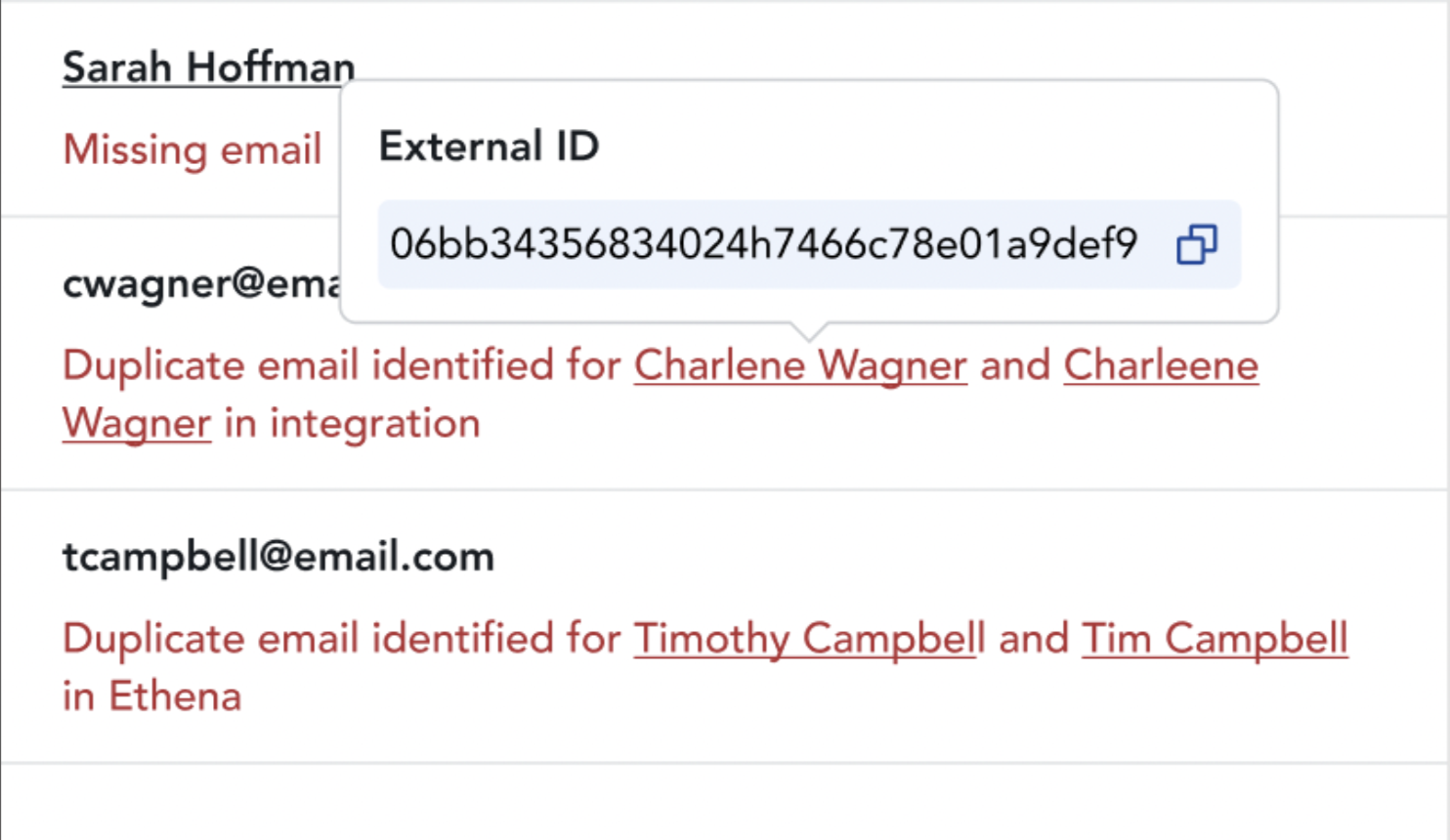 What do I do if I have two users in Ethena for the same employee?
Ethena allows admins to remove accounts that were created in error. If information differs between the systems, and Ethena is unable to match user from your HRIS against an existing Ethena record, it can happen that a duplicate record is created. In this case, simply delete the user that was just created, update the correct user in Ethena to match the information in your HRIS, and after an hour or two, the sync should run again and match the two users.

We have some more further info information available in this article for troubleshooting duplicate users in your HRIS.


What happens if I dismiss an employee in my HRIS but they haven't completed all their trainings in Ethena?
Their Ethena training will be paused and they will not be able to review or complete any outstanding training.