BambooHR integrates with Ethena to sync employee data to Ethena's platform, reducing the overhead of managing multiple systems.

How do I connect BambooHR to Ethena?

1. First up you will want to head to the Account section of the Admin panel and then over to the Integrations tab.
2. Once in here, scroll and find the BambooHR integration.
3. You can choose here if you would like to override location to assign either All US based employees the more extensive California training, or ALL employees regardless of what country they are based in.

4. Enter your company domain, and hit continue. This will then take you to BambooHR and if all is good it'll send you back to the page in Ethena. You are now integrated! All your users in BambooHR will now be ported over to Ethena and will begin to populate. If they already exist within Ethena, they will be matched up and merged meaning all their training records will remain intact🎉

Now it's all set up, the integration will sync up roughly once a day (every 18 hours or so).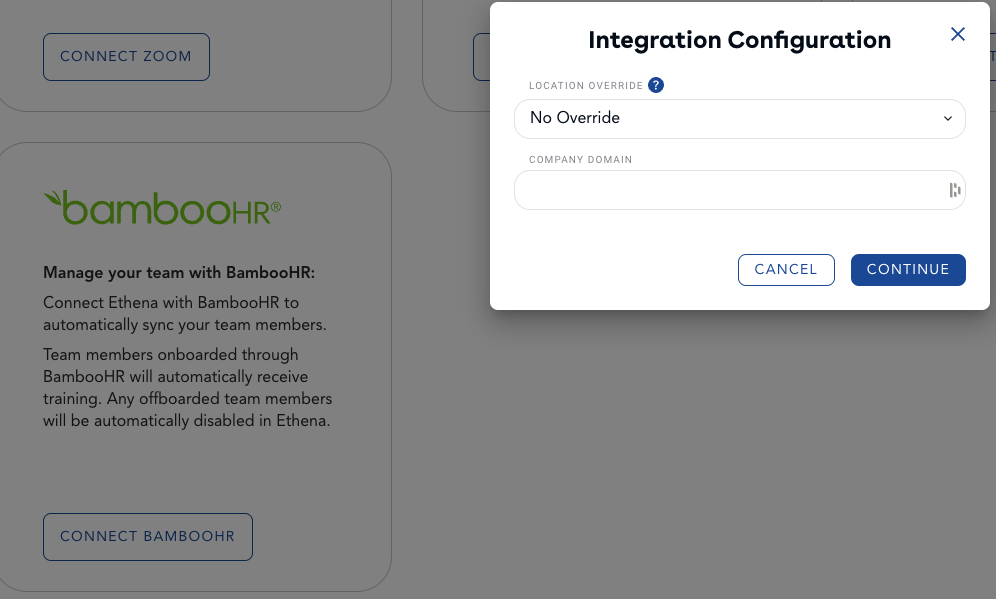 What information is transmitted between BambooHR and Ethena?


The employee information pulled from BambooHR into Ethena is:
Name

Email address

Work state


Hire Date

Managerial status

Department/office


Is everyone on BambooHR auto-enrolled in each course?

By default everyone will be automatically enrolled in a course (if this is enabled) when they are added into BambooHR. Once they are sent over to Ethena, they will be automatically assigned to all "auto-enroll" courses. You will need to use a CSV to enroll them in any courses for which auto-enroll is not enabled.

Can I filter who is sent over from BambooHR?

Yes you can filter based on an individuals employment type eg. "full-time", "part-time" etc. We can also add custom employment types as a filter too.

It is important to note that this must be enabled BEFORE integrating with Ethena.
You can set it up so that specific employment statuses are not sent to Ethena such as filtering out folks who are listed as a "Contractor" or another status of your choosing. BambooHr is also able to support custom employment statuses. Just let us know at support@goethena.com if you have any you would like filtered and we can get those added for you on our side.


Once the BambooHR icon is no longer showing next to the employee name, you'll be responsible for managing that employee within Ethena. You can also transition folks by un checking the sync with BambooHR box when editing their details. BambooHR will no longer automatically update employee information for this individual.