Admins may terminate a team member for any number of reasons, including leaving the organization or deciding that it is no longer necessary for their role.
Terminating a team member will remove them from their Ethena training courses. They will no longer receive notifications or have access to their learning center. You can do this either One by one or in bulk via a CSV upload.
One By One
To terminate a team member, click on the three dots to the far right of their name and info on the Team Members list. Select "Terminate," and the team member will be automatically removed for your list.

In order to view terminated learners, go to the Team Members page from the Ethena Admin Dashboard and you can then filter by "Terminated" using the check box. This makes it easier to enable someone's account or print their compliance certificate without scrolling through other active learners.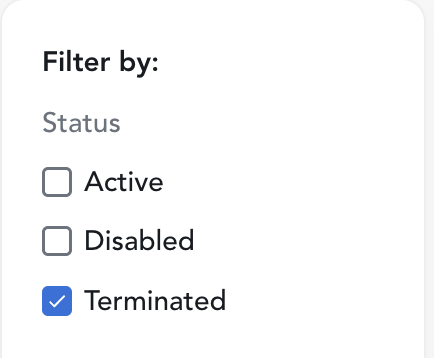 In Bulk Via a CSV Upload
You can also do this in bulk by using our CSV function!
Click the "Add Team Members" button on the top right of the Team Members page.
In this interface shown, download the current CSV and then edit this file.
In the Status column, change this from "Active" to "Terminated".
Save this as a CSV, and you can then upload it into Ethena.
Once this is done, the selected team members will then be transitioned to Terminated! Just like that.