You may be adding our Harassment Prevention course as an automated assignment and notice that the time requirement ranges from 40 minutes up to 3 hours (that's a mighty wide range) and be wondering "well, how much time does this training take?"
Thankfully we have this helpful chart to help illustrate you how this is worked out based on the State that your individual learners live in! For any automated core learning assignment, Ethena will assign training based on your learners location and role (IC of Manager). Additionally, we also update training if people move home or role so you need not manually go in and change anything.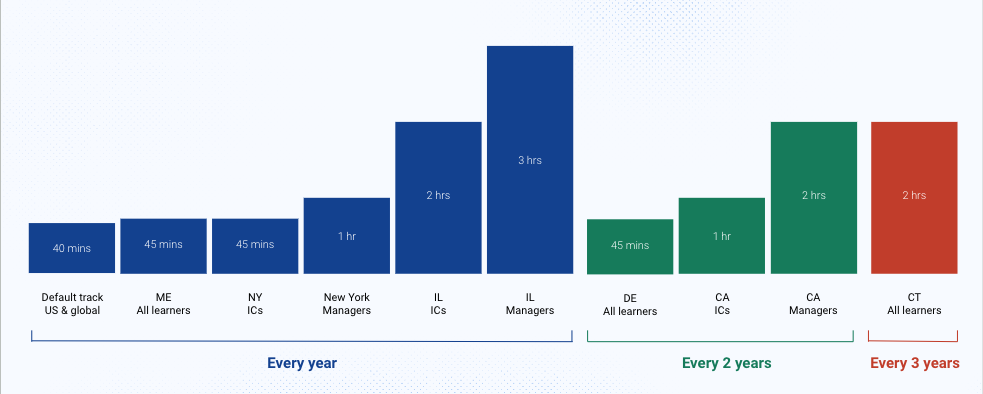 by IC we mean an Individual Contributor.

You can see here that for the cohort in Blue, they are trained once every year and the greens every 2 years, and then for folks who live in Connecticut training is required once every 3 years!

Here's a table if you prefer text based information in a spreadsheet friendly format.
| | | |
| --- | --- | --- |
| | Specific learner group | Amount of training assigned |
| Every year | Default Track for US & Global learners | 40m |
| | DE & ME All Learners | 45m |
| | NY ICs | 45m |
| | NY Managers | 1h |
| | IL ICs | 2h |
| | IL Managers | 3h |
| | India | 43m |
| Every 2 years | CA ICs | 1h |
| | CA Managers | 2h |
| Every 3 years | CT All Learners | 2h |

For your reference:

We have designed Ethena's core Harassment Prevention curriculum (called "Core Learning" in-app) to meet the requirements for harassment prevention training by location and role (e.g., manager, non-manager).
You can also add continuous learning assignments in addition to our core offering, but those assignments are not required to meet the training requirements. This helpful guide provides more information about our course offering, as well as the requirements by location.
We also have a couple of helpful PDFs for you: