Notifications are one of the most helpful devices in your Ethena toolkit.
We're going to break these down and help guide you through how they work, when they get sent out, what they include and ultimately why to use them!
Why should I use automated notifications?
This will help your team keep up to date with new training, and increase completion for training that has already been assigned. These automated reminders help keep folks on top of training and don't require you the need to keep checking in with your team and save admin time!
Across all companies we see a 26% increase in completion rate for companies leveraging slack notifications.
What notifications are sent out?
Upcoming Training reminder: For new assignments
Incomplete Training reminder: To prompt individuals in your team to complete training that has not yet been completed
Team Insights Incomplete training reminder: Notifies managers letting them know who in their team has not yet completed assigned training that has already passed the deadline.
Incomplete Survey reminder: To prompt individuals in your team to complete a overdue Survey
How and when are notifications sent out?
Notifications are sent out to the email address your team has on their Ethena entry in the Team Members page. They are sent at 10am local time for each individual learners time zone.
You can configure the day of the week you would like notifications to be sent out, as well as if you would prefer them to be sent out weekly, bi-weekly or not at all!
For Upcoming Training reminders you can choose if they are sent out either:
1 day, 1 week, 2 weeks or a month before the assignment is released.
If you are using Slack you can also set up an integration for notifications to be sent through Slack as well as via email! Nifty huh?


What do notifications look like?
Below we show both Email and Slack Notifications. Notice that each contains a direct link to users learning center so they can get straight into training with the "Start Training" button.
You can also see that they provide a snapshot for how much content they have ahead of them and roughly how long it'll take to complete.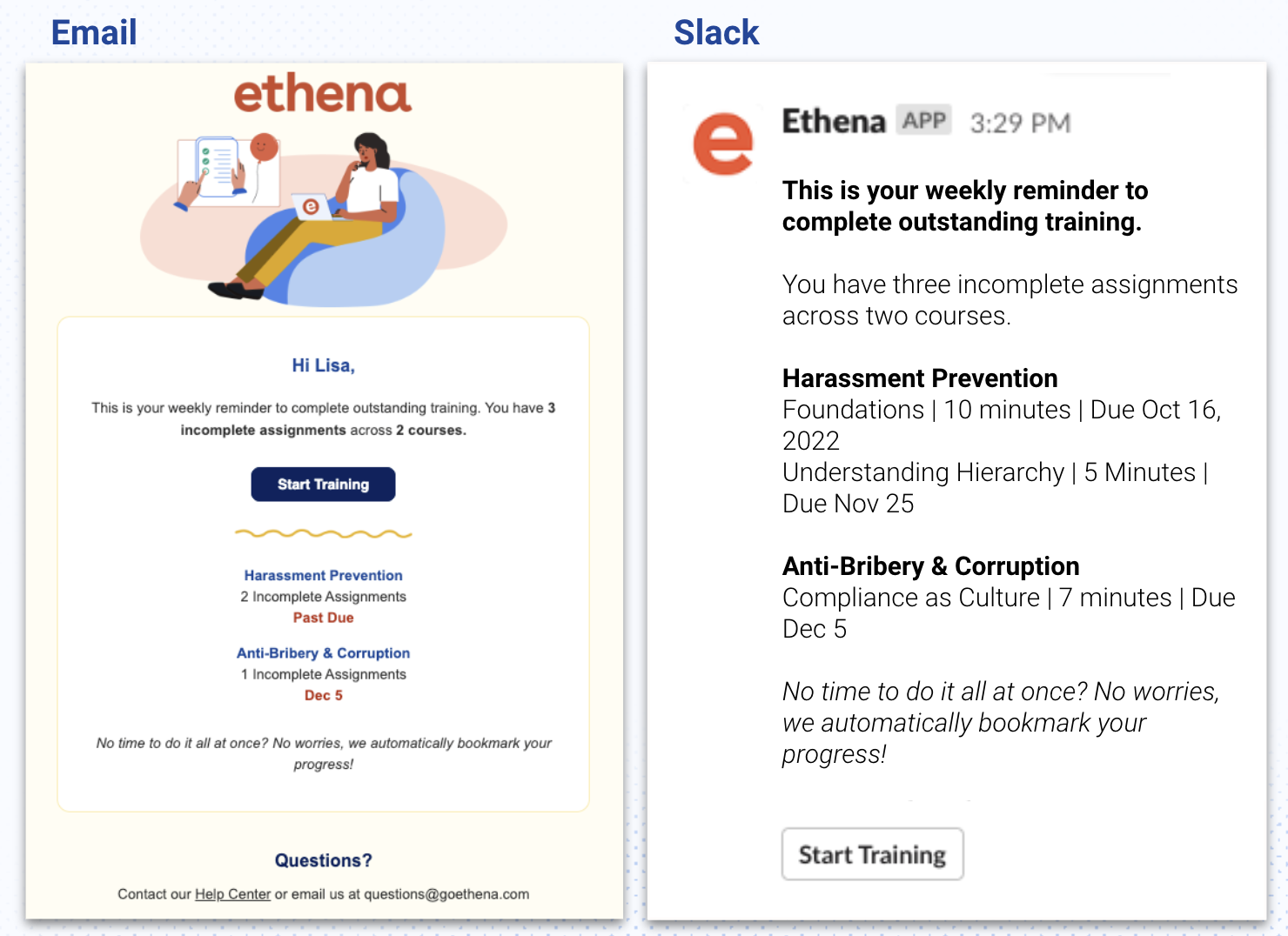 When do different notification types begin?
No notifications are sent when learners are added into Ethena until training release date
New training notification sent on training release date
Recurring training notification starts on first eligible day after training release (This will be affected with the training deadline you have chosen)
Team insights only start after training deadline has passed
Can I customise Notifications?
It is not possible to make changes to our notifications.