Your Ethena learning center is where you'll complete all your Ethena training. Your learning center is unique to you and is accessible via either an SSO link or magic link that is sent to you each time you receive an Ethena Slack or email notification ✨ ✨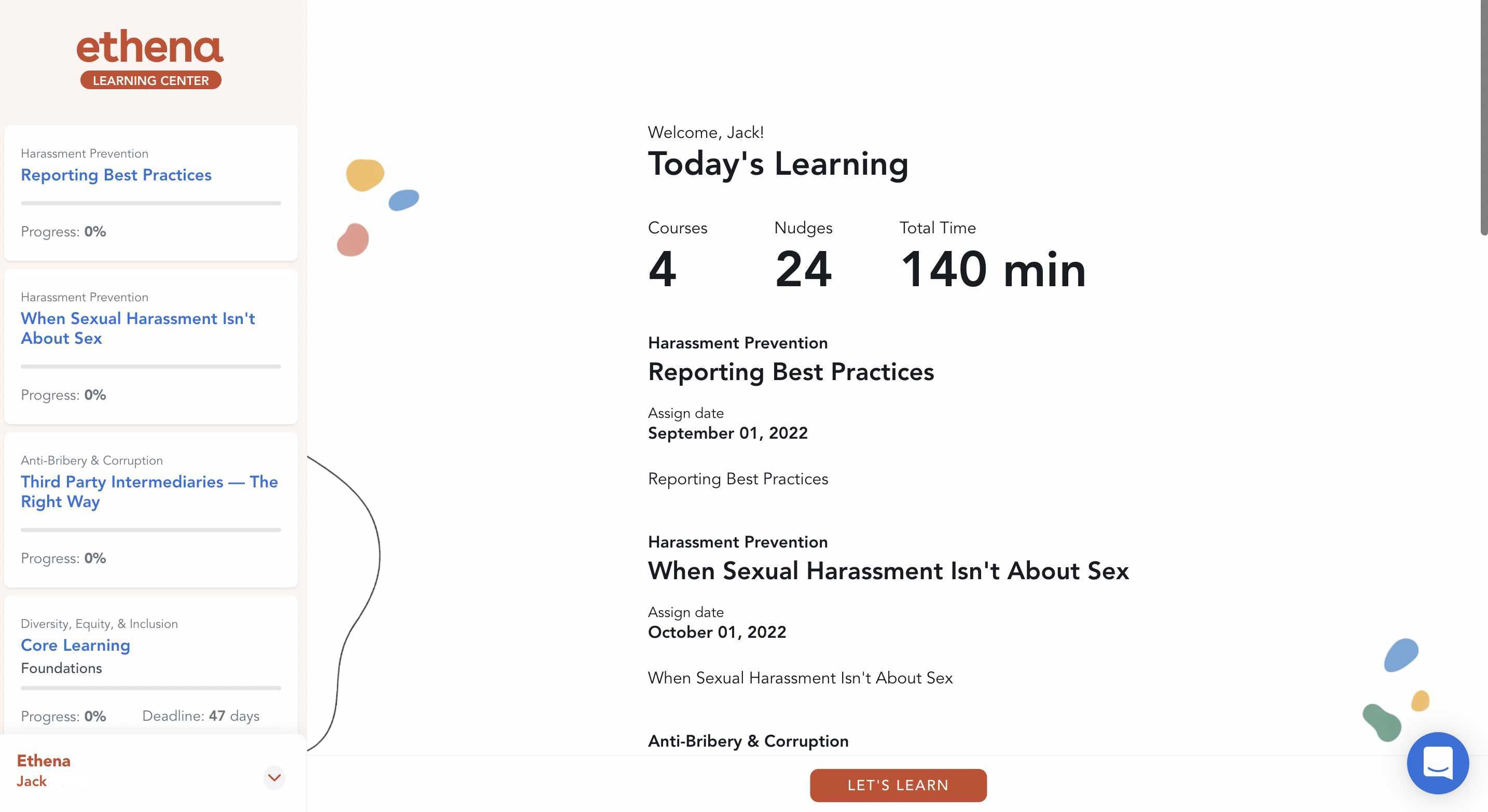 Upon opening, you will be greeted with your new assignments and the Let's Learn button at the bottom. Just hit this, and you can jump straight into training!

In the lower right you will be able to access some different options in the pop out menu here: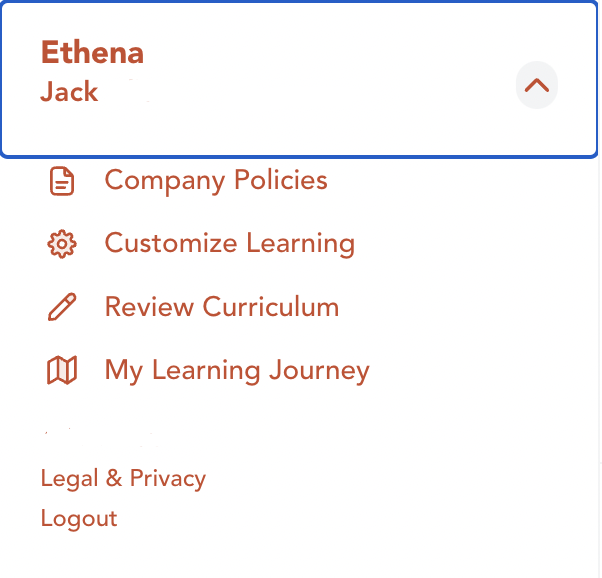 Starting from the top:
Company Policies

This where you can find your organizations uploaded policies. This is a handy point of reference on org-specific policies if you have any questions whilst training. If you have a question about a policy that is not covered here, reach out to your People/HR or Legal team to learn more.




Customize Learning - This gives you the option to change the language if this is supported for the course!

Review Curriculum - This lets you review core curriculum if you would like a refresher in one of these modules.


My Learning Journey

This will show your previous learning and what you have already covered in training. It's a great way to review previous content or to just check and see how far you have come!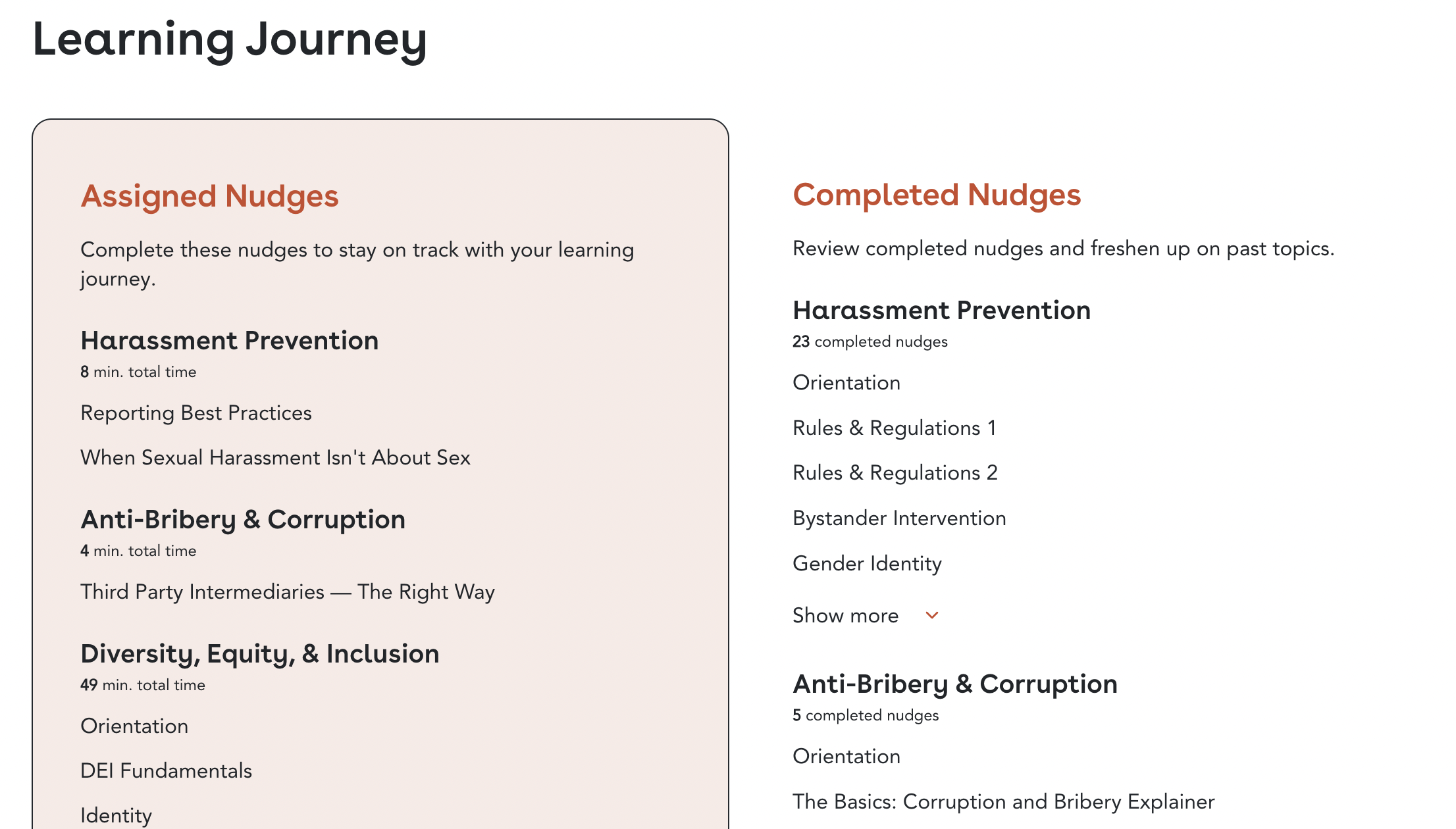 Once you begin a nudge, the left hand bar will show a breakdown of the time necessary to complete the nudge.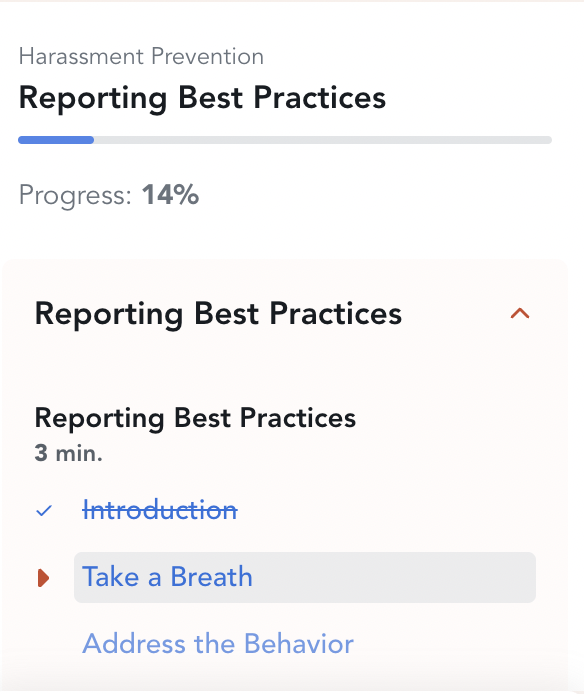 Note that you cannot skip through the nudges too quickly, doing so will trigger the learning center's timer and prevent you from moving on to the next nudge until the required amount of time has passed. For more information on why Ethena training is timed, check out this article.
If you leave your Learning Center in the middle of a training nudge, your progress will be saved, and you will return to this message in the middle of the screen. This automatically stops the timer and keeps your place and progress in training.

At the end of each training nudge, you will find one or more Checks on Learning. These are scenario-based questions that will assess your understanding of the information presented in the nudge.
If you do not choose the correct answer in a Check on Learning question at the end of a nudge, you won't yet be able to move onto the next nudge; instead, you'll be prompted to take another try. Once you have guessed correctly, you'll will see a trophy and the option to move on through your learning journey. Hooray!