Team Insights is an Ethena platform feature that provides team managers reporting and resources to promote training completion on their teams. It also provides admins with team-by-team insight into training completion rates. See here for an overview of this feature.
Depending on your platform configuration, Team Insights may require some setup. Choose the section below that applies to you:
I use a HRIS to manage my team in Ethena
If your team is set up on your HRIS* with their direct reports, no action is needed to set up Team Insights. Your HRIS connection will automatically provide Ethena with information about each learner's manager and enable manager-level reporting.
*excludes Workday, which requires configuration. Reach out to your Customer Success Manager for more detail on setup.
I use a CSV to manage my team or manage them directly one by one in the app
To enable Team Insights, you will need to ensure that each learner has a manager email address associated with their record. The process to do so is simple!
Using a CSV Upload (bulk addition)
Go to the Team Members page and download the team CSV.
Open this up, and add each individuals managers email address to the column titled "Manager_Email"
Once this is done, save/export the file as a CSV.
Still on the Team Members page, upload the new CSV under "Add team members > Upload CSV".
Once uploaded go to the Team Insights page and folks will be assigned to their corresponding manager. You are ready to go!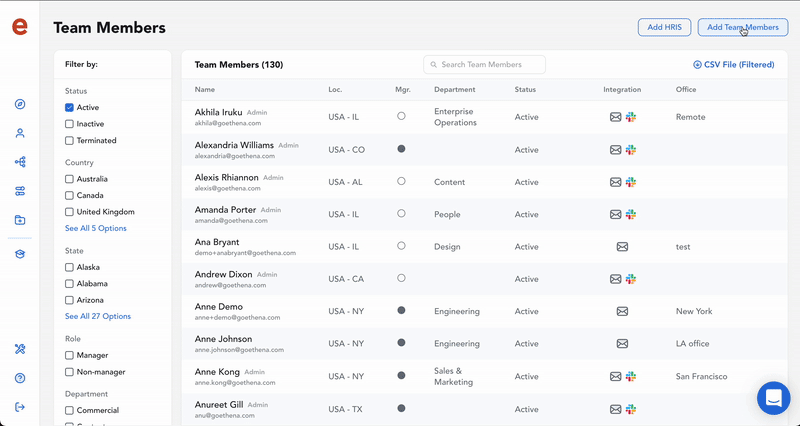 One by One:
Go to the Team Members page
Select the person you would like to assign a manager and click the 3 dots > Edit Learner
On this popup choose on the drop down menu "Reports To" and find their manager.
Once done, click save and that is it!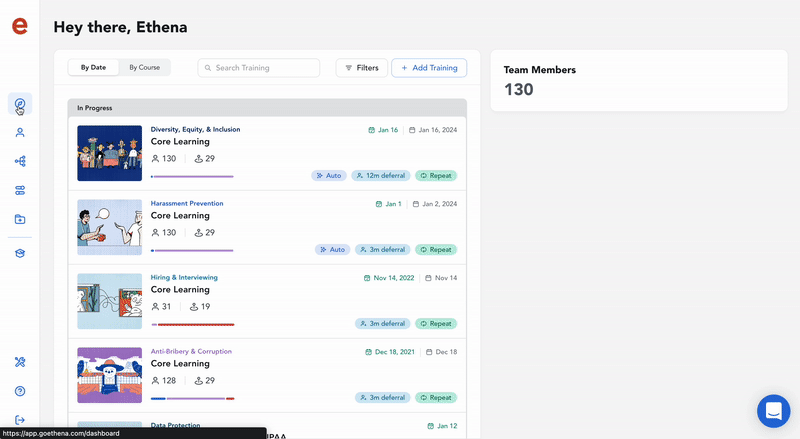 Once you have added manager info to your Ethena account, follow these instructions to set your Team Insights notification preferences (these govern how often managers are reminded about their teams' training completion rates).