Team insights is a feature that:
provides your organization's

managers a view into their team's training completion through email notifications and an in-app manager hub

gives admins a view into team-by-team completion rates directly in the Ethena admin hub

offers both admins and managers suggestions for following up with their teams to help increase completion rates across all your courses.


The average completion rate using Team Insights is at 97% total completion for folks on a weekly reminder cadence!
Accessing Team Insights in the Admin Hub: You will notice a new icon on the left hand side of the admin hub (shown here). Clicking this icon will take you to the Team Insights page on the admin hub.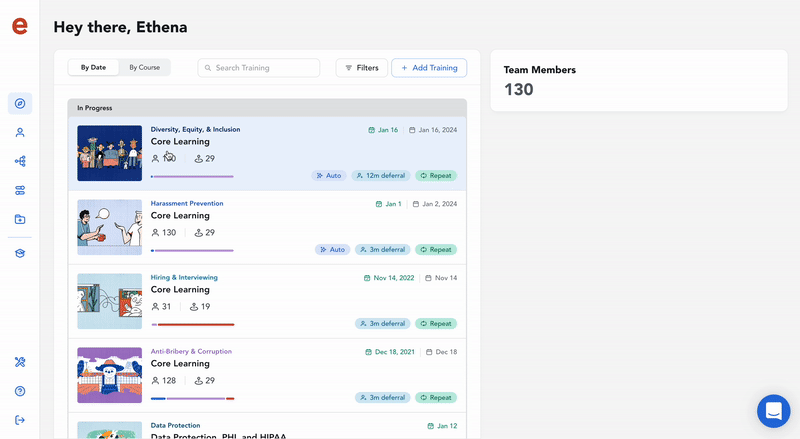 Dashboards
If your HRIS is connected to Ethena, manager data will automatically begin populating into Ethena. You will have immediate team-by-team views in your admin hub, and your managers will have access to team completion rates in their Ethena learning centers.

If you manage your Ethena learners in-app or via CSV, you will need to add manager information in order to make use of this feature. See here for setup instructions.
Notifications
Notifications to managers will automatically be turned on and set to a biweekly cadence. Based on your global notification settings, this means your managers will immediately begin receiving an email/Slack/ZoomChat notification about their teams' training completion status on a biweekly basis. Click here for instructions to edit your notification preferences.
Once all set up, you can track progress for your company here and even send out reminders to managers to check in on their team using the "remind managers" button in the top right of the page.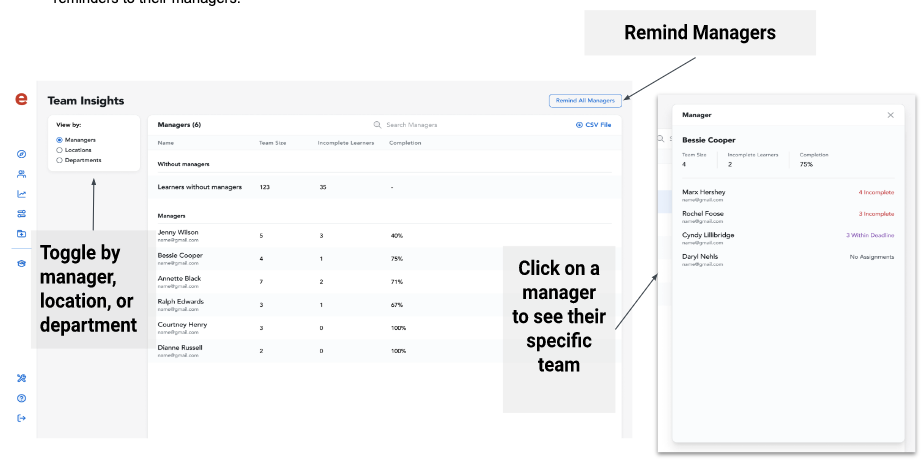 How managers can access Team Insights: The Team Insights feature for managers (shown below) is housed within their learning centers. This article covers the manager experience in more detail.