You may wish to enroll some specific users to courses for example wanting just hiring managers to undertake our Hiring & Interviewing training. Thankfully this is super quick to do for a few people or enrolling many more folks with a CSV upload.

One by One

First you will need to go onto the team members page.
Once here, select the individual you would like to enroll and click on them!
Once this window opens, you'll need to scroll down to the assignment you would like to enroll them to and then click on it
It'll then prompt you once more. Just confirm this and you are all set!



By Population
To assign via population, you can find this on the Manage Learners field.

You can then choose to assign based on if the learners are managers, what state and country they live in and by department!
You need to pick a country, and state/s (all states works too!) and then you could send this out to a specific cohort of folks as shown here: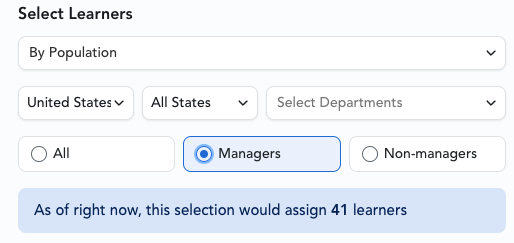 CSV Upload

This can be done by following the below video: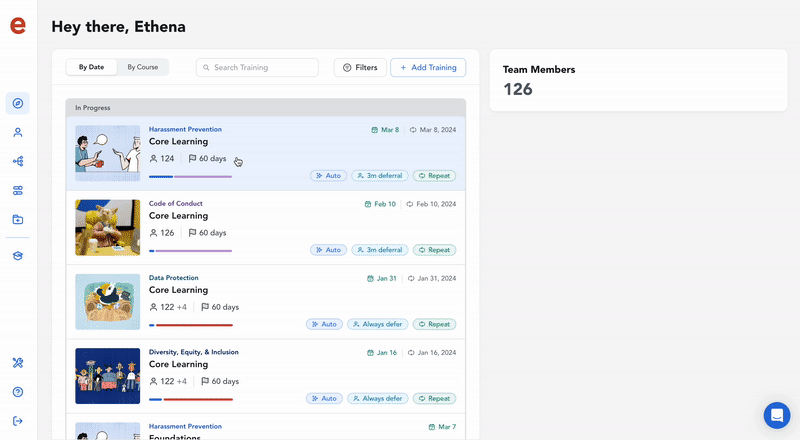 You need to go from the dashboard, over to the specific assignment you would like to add folks to.

Once here, click in the top left on the "edit" button, and this will open up an interface. Scroll down and find the drop down menu showing Select Learners and chose upload csv.
All you need to do is upload a CSV file with a list of the email addresses of the people you would like to enroll, and then you are done! It looks as simple as this:


Email
Stephen.Fry@company.com
Delia.Smith@company.com
Horatio.Nelson@company.com