Sometimes folks in your organisation will need to take time off for a variety of reasons and you want to be sure they are not going to be receiving notifications as normal and/or are compliant before going on leave. We've got a leave management functionality to help out with just that coming in two flavours!

Managing Leave within Ethena

The first way is to head on to the Team Members page to add leave for an individual. click on their entry, and go to "actions at the bottom. The find "Add/Edit Leave..."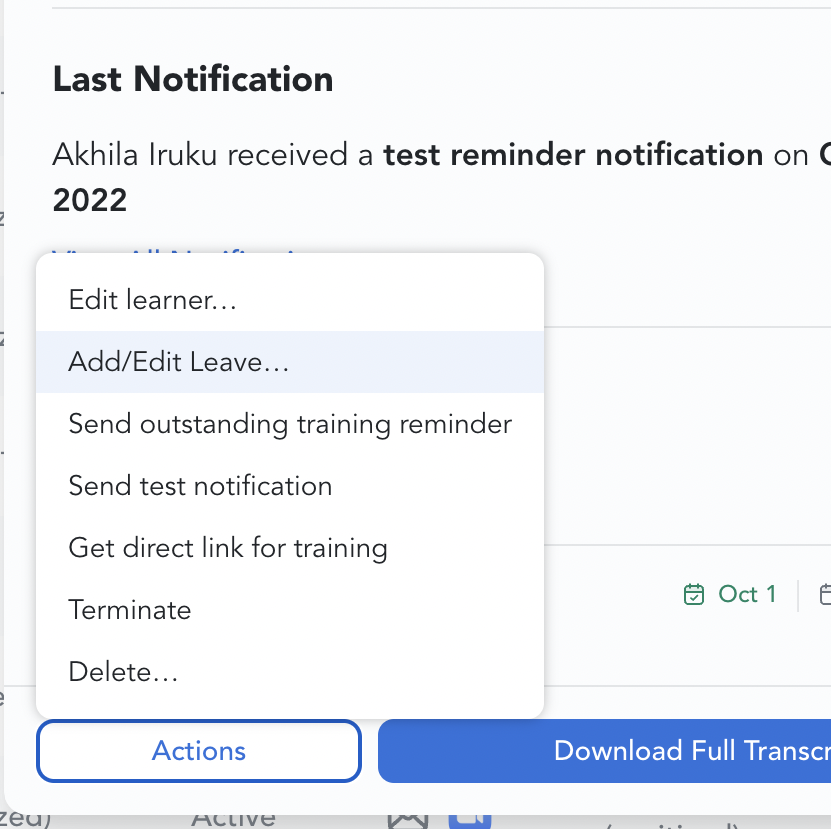 This will then open up the window shown below.

In here you are able to set the start and end dates of their leave, and it gives you the options to send reminders whilst they are on leave, or if you would like to assign any outstanding core curriculum to the individual before they go on leave.

The default setting is to not send reminders during this period of time, and not to assign all outstanding core curriculum.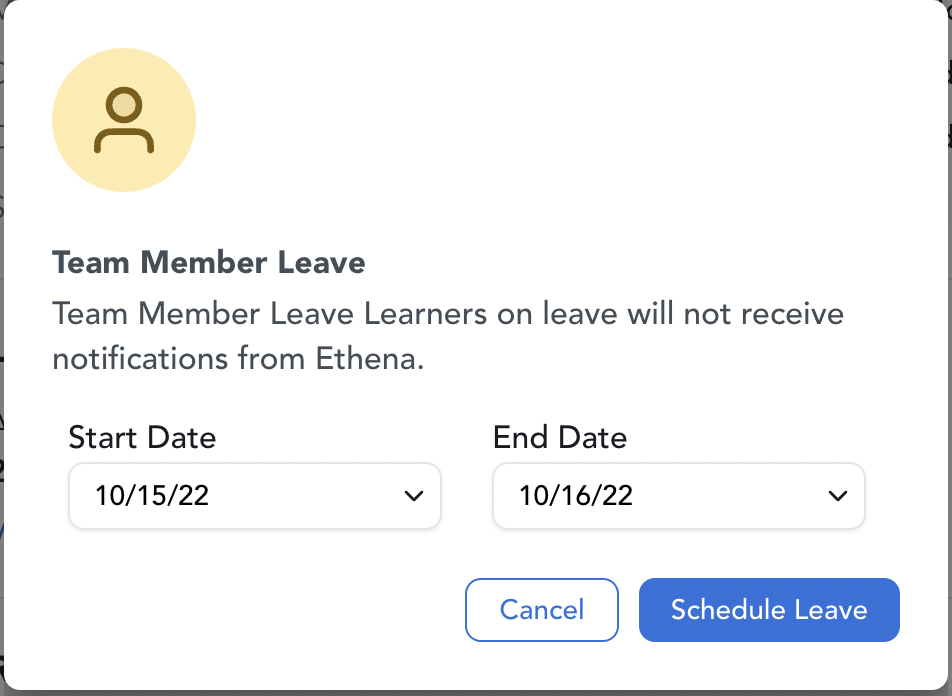 Managing leave via a CSV

If you prefer to manage this data using a CSV, we have a set up for you!

What you will need to do is download the CSV for all your team members. As a quick reminder you can find this by heading to the Team Members page of the Ethena Admin Hub, and then clicking on the CSV File option

Now that you have your file, open it up in your spreadsheet editor of choice and there's a few columns that you need to add. There's a handy example CSV here to show you what it should look like for one individual

Example CSV with Leave fields





Columns you should add:

pause_start_date
pause_end_date


pause_reminders (Set to TRUE by default)
Set this to FALSE if you would like reminders to be sent during the leave dates.

pause_release_training (Set to FALSE by default)
Set this to TRUE if you would like to release all the leaners core curriculum before their leave.

Something key to note is that the date format for any CSV upload needs to be in the YYYY-MM-DD format.

Once you have your CSV saved, you can then upload this on the top of the team members page on the add team members option. Pick the file and hit the upload button and you are done!


What happens when team members come back off leave?

Once a team member is back from leave we will then resume notifications for them. What will happen is that they will receive a notification for all outstanding training on the day of the week you have set for reminders. This will be just like the normal notifications that your team get.

For any training that has already been assigned whilst they were away(if for longer than 1 month), this will be available at this time also.