Picture this, you're training with Ethena and you may be wondering "où est le français?" or "¿Hay español?" in our training? The answer to both of these is oui/si! We do have multiple translations available.

If your company support multiple languages in their training you can change this in your learning center. When you are in training, you'll want to scroll down the option for Customize learning: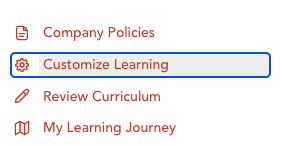 This'll open a pop up that gives you a drop down of the available translations. Just pick your preference and this'll then update your learning center et voila! You can now train using your preferred language.